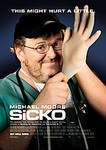 Wow. Seriously, if you haven't seen Michael Moore's movie Sicko, watch it now.
And don't worry, it's not some sappy-crappy story about people without health care — Moore says that in the first 5 minutes. Instead, the movie is about people who have health care but had their health care dropped the minute their health care company actually had to pay something out.
He travels to England, France, and Canada and shows how their "socialized medicine" systems work (and work well) — one country I wished he would've visited too is Japan. Japan's the closest a country comes to us economically (read: they're very, very capitalist there), yet even they seem to have free health care for everyone!
As I understand, Japan has a very good mix of private and public health care, with the only government control being that you have to be offered it by your employer (or if you don't have an employer, by the government). Why we can't at least have this kind of system here in America, I don't know!
The best parts in the movie for me were just the expressions on the faces of the people in other countries when Moore asks them about how much they have to pay for their health care, or how much medicine costs, or where they go to pay their bill after they get out of a hospital — they look at him like he's from another planet. "Why would someone make you pay if they're trying to keep you alive?" they seem to ask.
Also, listen closely when they play back the old Oval Office tapes of Nixon — that man was a goddamn monster. He basically just comes out and says, flat out, that the goal is to keep people sick and sad.